The "Dutch Lottery" Scam
a form of Advance Fee Fraud
Posted 22nd Oct 2002 / Last Updated December 15th 2004



See Also: Nigerian 419 Scams | Operation Zero


Primarily conducted by Email, occasionally through the post
The messages arrive with the subject line "OUR LUCKY WINNER!!!" or similar and purport to be from a Dutch Lottery on which you have won a substantial prize. (Full example below)

The email may give you a reference number to quote and a phone number to call, the supposedly unique reference number is in fact often identical in every email sent!

Research done on this suggests that the perpetrators are the same people who carry out the &quotNigerian&quot 419 fraud There are 2 main ways that victims are defrauded.
They are asked for your bank account details including personal information that might enable the fraudster to access the account
an advance fee is requested to facilitate the transfer of the 'Winnings'
What should you do if you get this by email or in the post?
Do Not Respond! These people are organised criminals If you have respond and received replies, pass all the information on to the police, the more you give them the better their chances of an arrest. If your inquisitive nature makes you want to proceed, hold on, we can tell you what will happen... Click here!

Report it! NCIS (National Crime Intelligence Service) are collecting information on all advance fee scams although they have yet to detail the lottery version. Their Pages on the Nigerian (419) Scam state that they do not need to be contacted unless you have actually lost money.

NCIS will not accept reports from the public. Letters or printouts of emails (including headers) can be handed in to your local police with a request that they are passed on to NCIS. London residents can forward emails to fraud.alert@met.police.uk

You can register with Spam Cop http://spamcop.net/ and report all unsolicited email, the scamster may well lose his/her account if you do this, though this is only an inconvenience.

If you have been defrauded Please still go to the police, it is a sad fact that they are in a better position to act once a fraud has occurred than they are if you have simply received an email. You may be embarrassed but you owe it to others to hand over all the information you can. You will be helping to prevent others from making the same mistake.


The full Dutch Scam Email
WERKEN BIJ DE LOTTO,
41132, NL-1007 DB AMSTERDAM,
THE NETHERLANDS.


FROM: THE DESK OF THE DIRECTOR PROMOTIONS,
INTERNATIONAL PROMOTIONS/PRIZE AWARD DEPARTMENT,
REF: AST341739DS

ATTN:

AWARD NOTIFICATION; FINAL NOTICE

We are pleased to inform you of the announcement
today, 20TH OCTOBER, 2002, of winners of the WERKEN
BIJ DE LOTTO/ INTERNATIONAL PROGRAMS held on 9th October 2002,were our winners were listed and you can also view the listing on our website www.werken-bij-delotto.net.

You / your company, attached to ticket number
013-2316-2002-477, with serial number A025-09 drew the lucky numbers 37-13-34-85-56-42, and consequently won in category B.

You have therefore been approved for a lump sum pay
out of US$2,500,000.00 in cash credited to file REF
NO. REF: AST341739DS. This is from total prize
money of US$15,000,000.00 shared among the six(6)
international winners in the category B. All
participants were selected through a computer ballot
system drawn from 30,000 names from Australia, New
Zealand, America, Asia, Europe,USA and North America
as part our International Promotions Program, which is conducted annually.

CONGRATULATIONS!

Your fund is now deposited with a Finance and Security House and insured in your name. Due to the mix up of some numbers and names, we ask that you keep this award strictly from public notice until your claim has been processed and your money remitted to your account. This is part of our security protocol to avoid double claiming or unscrupulous acts by participants of this program.

We hope with a part of you prize, you will participate in our end of year high stakes US$1.3 billion International lotto.

To begin your claim, please contact your claims
officer immediately:

Andrew Vangen
Account Director
Deven Bv
TEL/ FAX: +448701303245,+448701303584.
EMAIL:fortune@poboxes.com

For due processing and remittance of your prize money
to a designated account of your choice. Remember, you
must contact your claims officer not later than
OCTOBER 25th, 2002. After this date, all funds will be returned as unclaimed. All correspondences to Mr.
Andrew Vangen,either by fax or email, should have this email sent along with it and also, your email address to which this email is sent, should be clearly and boldly written in your response.

NOTE: In order to avoid unnecessary delays and
complications, please remember to quote your reference number in every one of your correspondences with your officer. Furthermore, should there be any change of your address, do inform your claims officer as soon as possible.

Congratulations again from all our staff and thank you for being part of our promotions program.


Sincerely,

THE DIRECTOR PROMOTIONS,
WERKEN BIJ DE LOTTO.
www.werken-bij-delotto.net

N.B. Any breach of confidentiality on the part of the
winners will result to disqualification. Please do not reply this mail.


Other Examples 1 | 2 | 3 | 4 (Word Doc attached to 4)

This sort of scam is known as Advance fee fraud for the simple reason that the perpetrator relies on convincing you to hand over money on some pretense or another. With the lottery scams a handling fee or similar is demanded in order to release the prize this 'fee' can be several thousand pounds. If you hand the fee over that is usually the end of it although as with the &quotNigerian&quot 419 Scam there have been reports of more serious consequences for those who meet the scamsters face to face or try to recover their loss once defrauded.

The letters below are one example of the correspondence received by a person who replied. It is unclear in this case if 2 separate fees were expected or just one.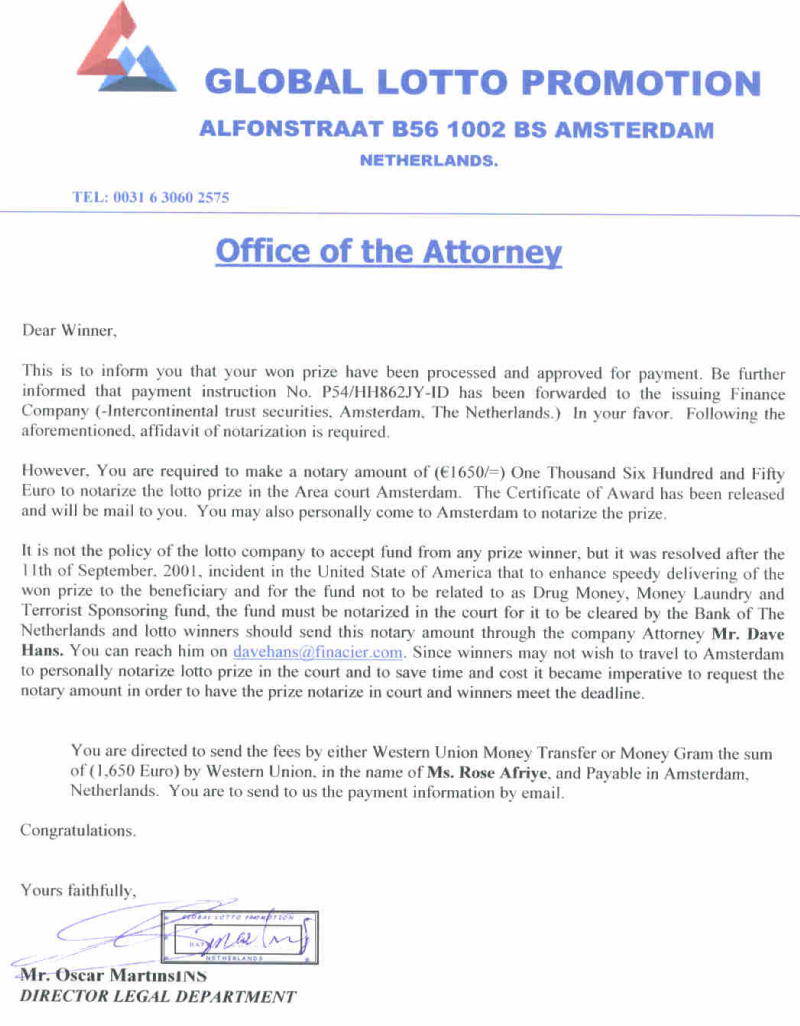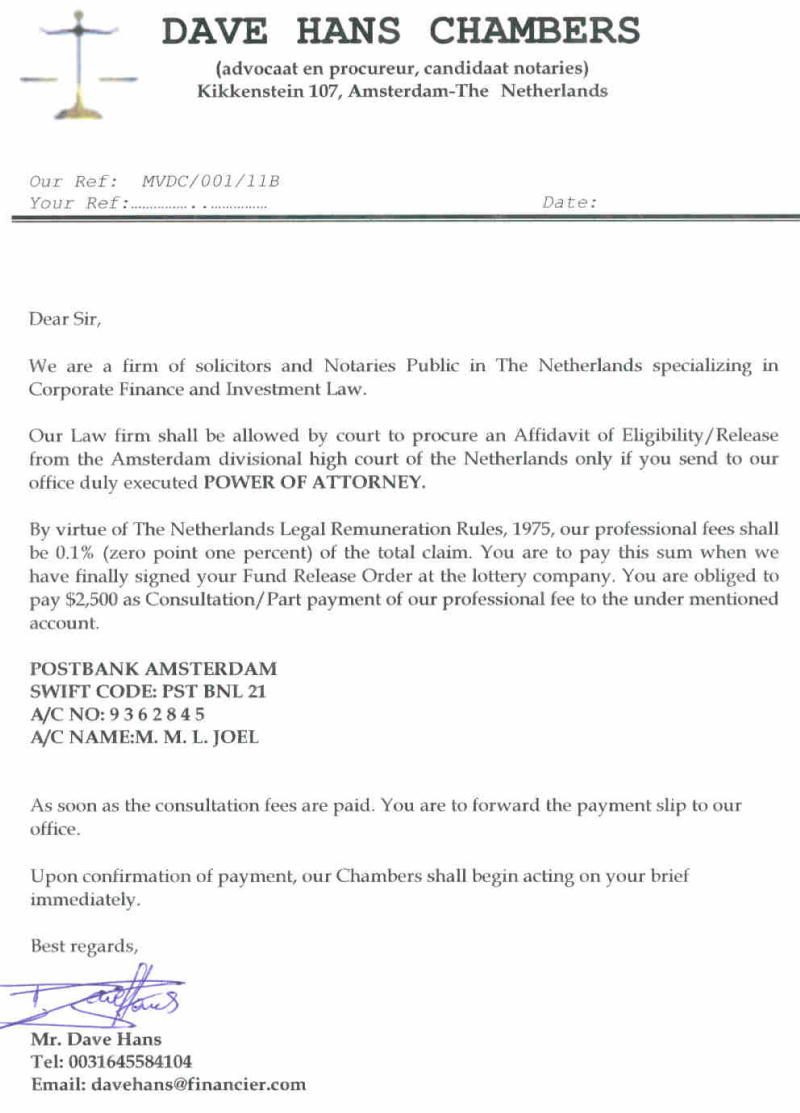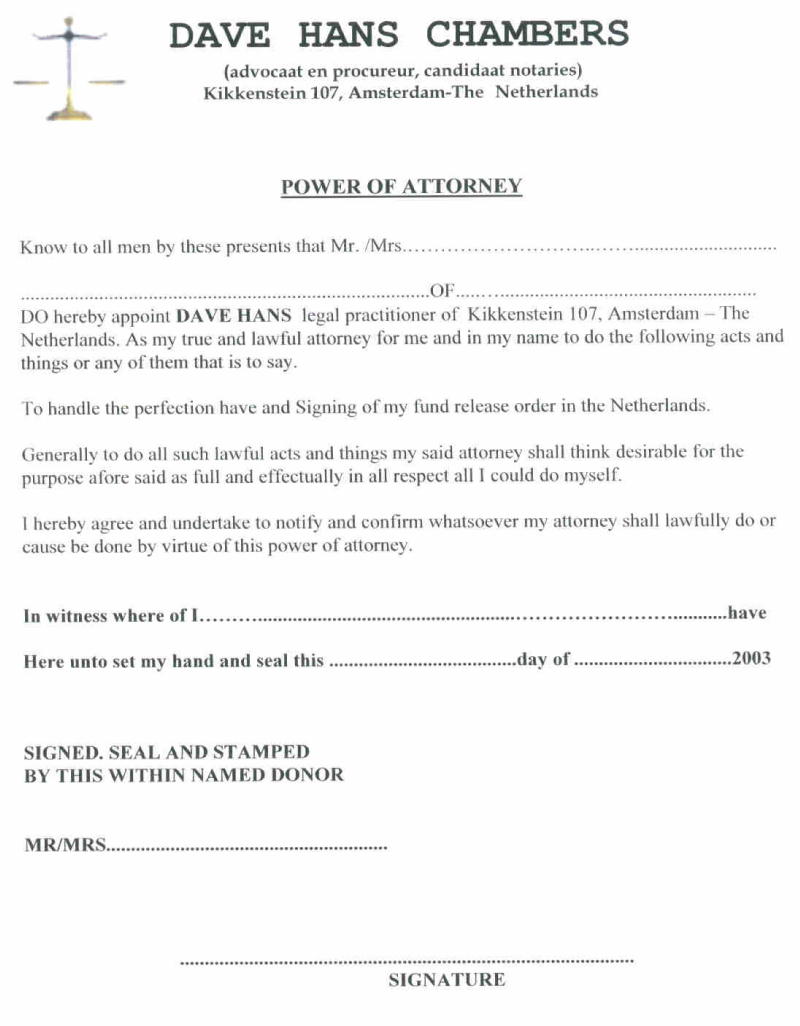 For details on the history of this scam go to
http://www.crimes-of-persuasion.com/Nigerian/lotteries.htm

Please warn others by directing them to the above link or to this page:
http://www.stopecg.org/lottery.htm

Other Websites Implicated:
These are based on submissions we recieve so are not yet verified, when we add "Confirmed" it means we have irrefutable evidence that the site is bogus
Legitimate Websites:
The scam merchants also often link to 3rd party websites in an attempt to appear legitimate. Often targeted are:

The British National Lottery (Camelot)
http://www.freelotto.com/




Constoppers Email List
This list is here to protect you, Please join up and will will receive very occasional messages warning of scams being carried out against small businesses.
Report scams to constoppers-owner@yahoogroups.com The whole group will then be alerted to verified scams.


Back to index | The Nigerian Scam | @nti Copyright please distribute!